We have named our luxury boutique hotel The Mirante de Guanabara. In Portuguese, this means the "high viewpoint of Guanabara" and the spectacular view of Rio and Guanabara Bay is one of our prime features.
We are justifiably proud of our facilities that have recently undergone an extensive renovation to convert our luxury villa into a 10 suite luxury hotel. The Mirante de Guanabara is a 9000 square foot property that was designed from the ground up to appeal to visitors to Rio de Janeiro. It is perched on a hillside and has what we believe to be a perfect set of features to enhance your visit to Rio. All four floors are view oriented, but don't worry, we have an elevator!
The Pool Deck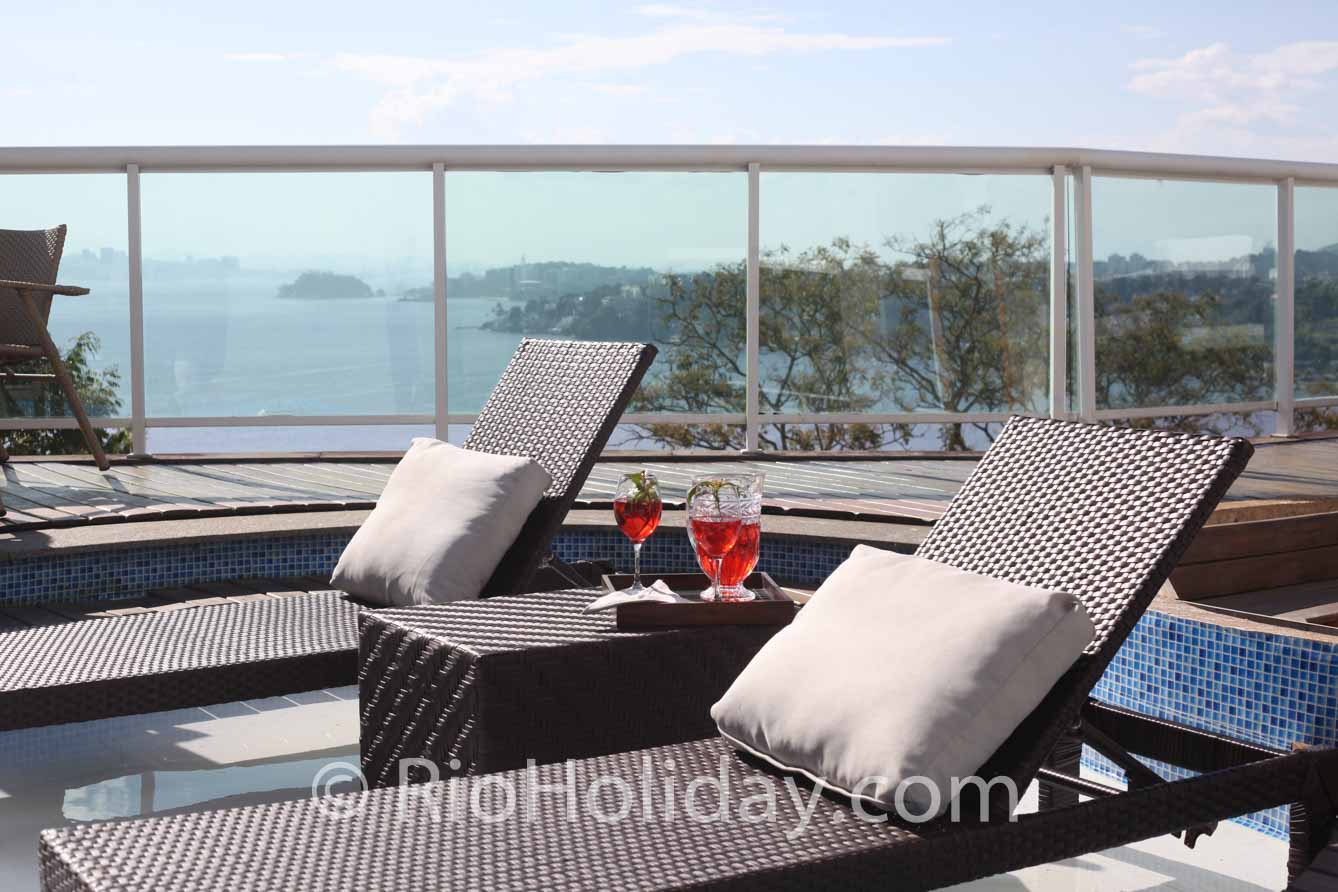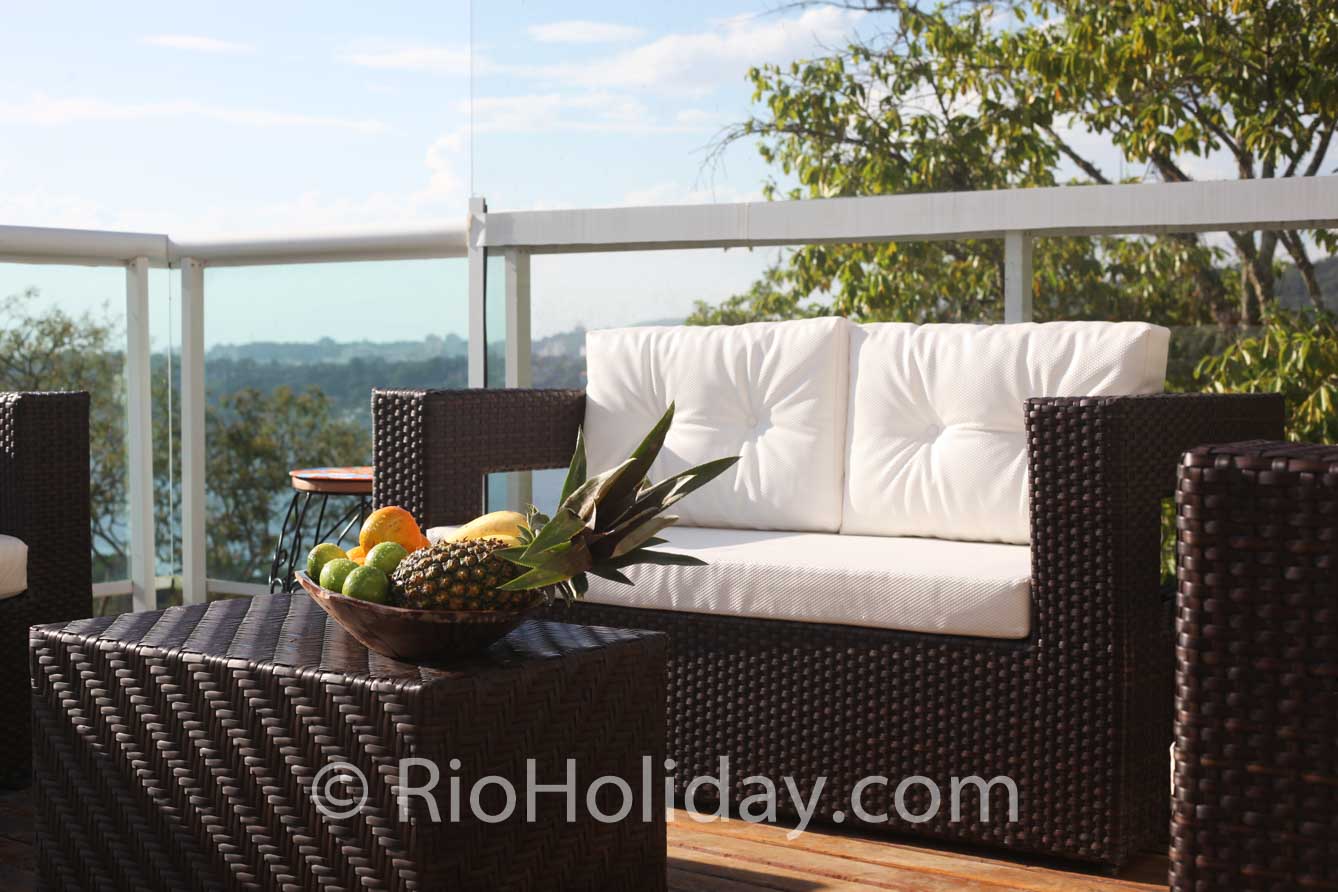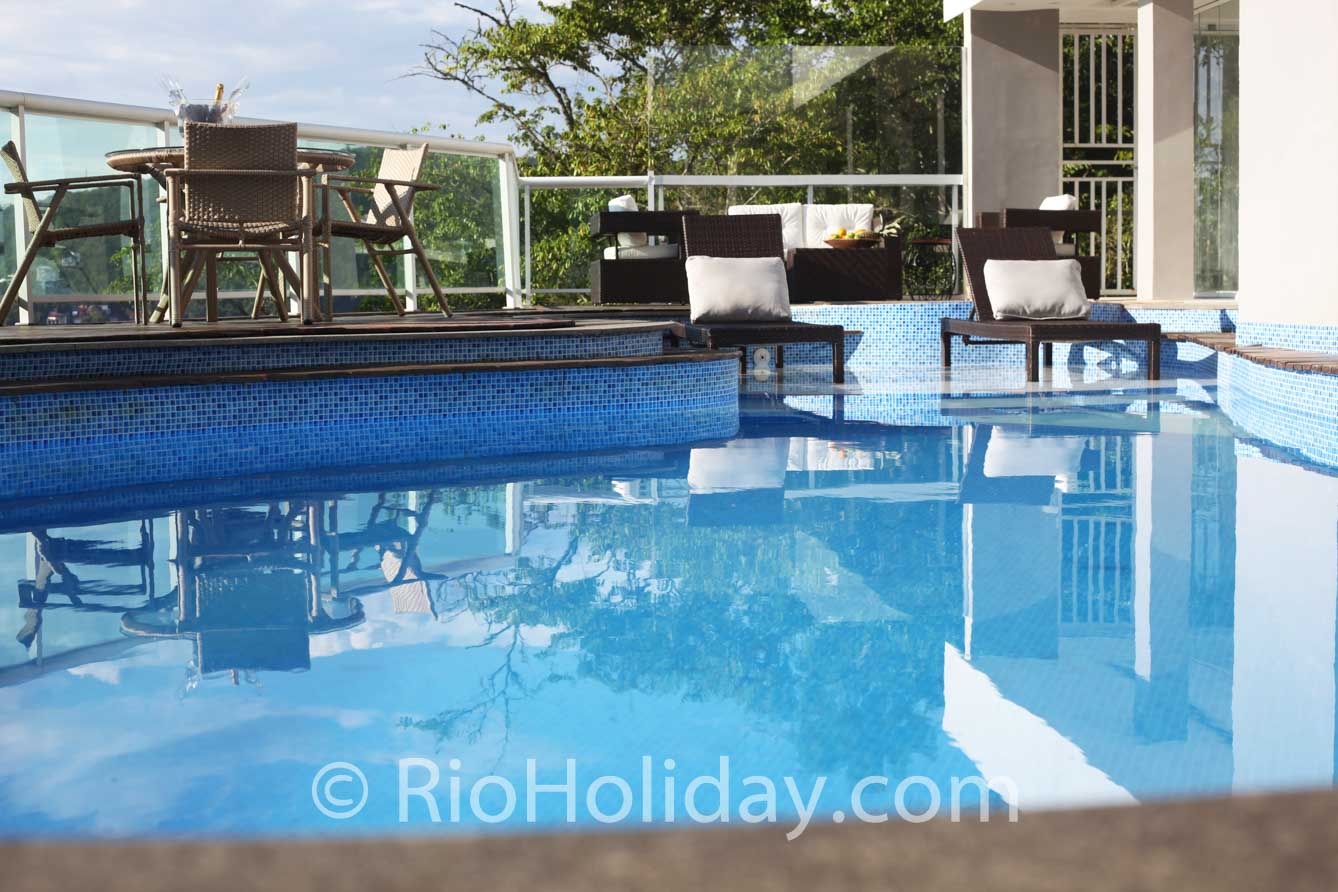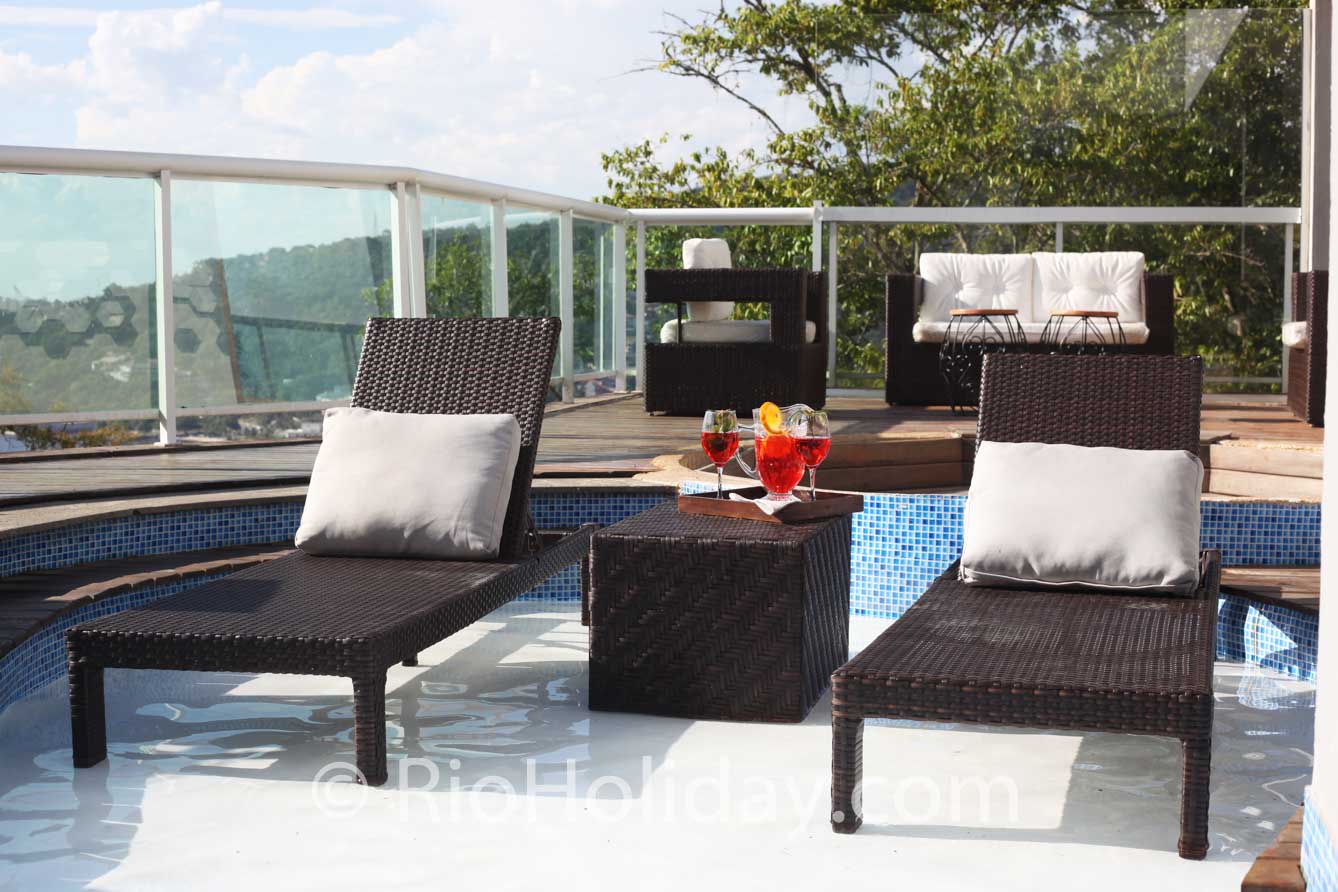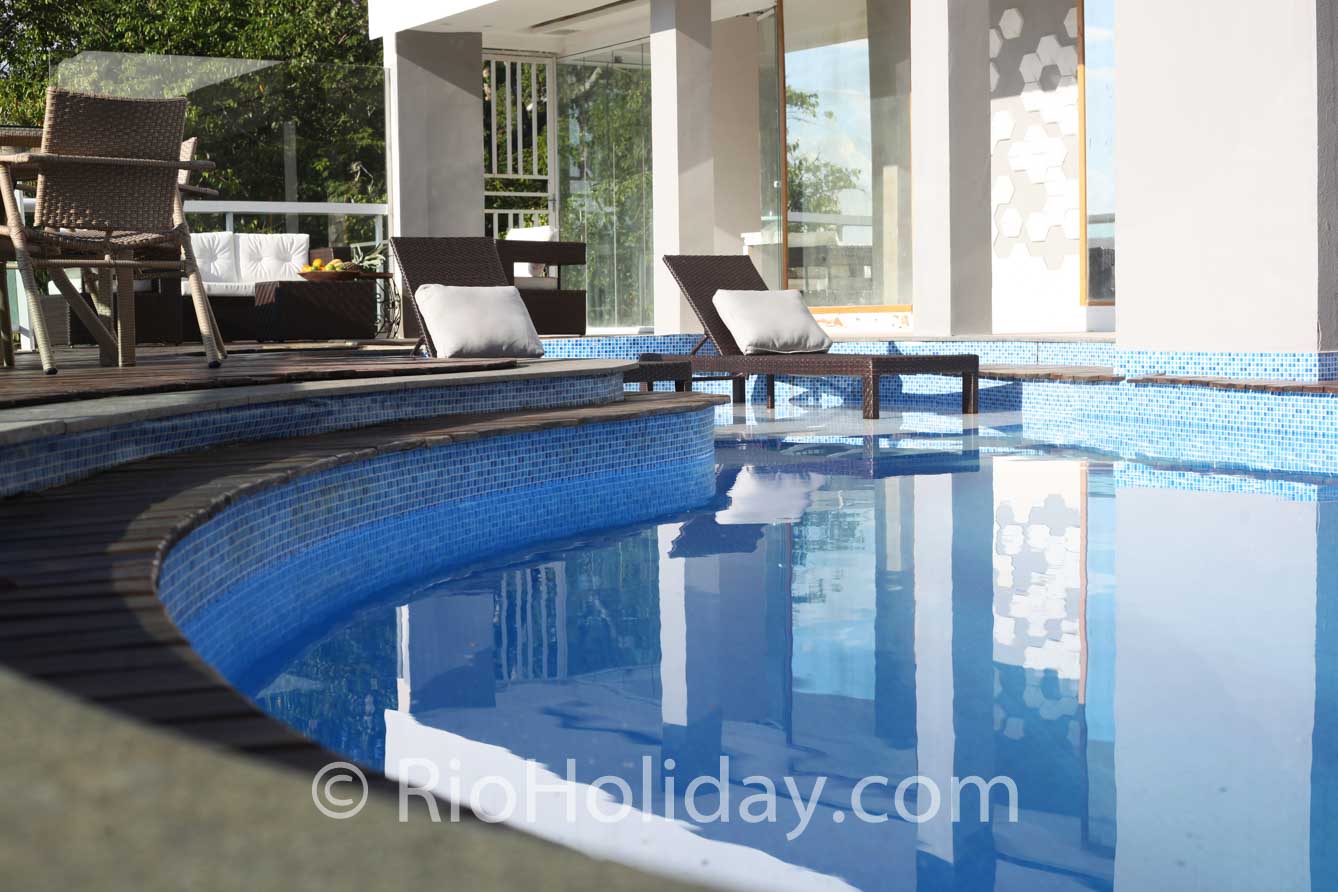 The top floor of our 4 story hotel is our Pool Deck. It is the place to be to enjoy a dip in our pool, soak up the sun, or just take in the view. The Pool Bar serves all type of beverages, from frozen daiquiris to beer to wine. Dress is swimwear casual or whatever – this is your place to relax. We enjoy a westerly exposure at the hotel, so there is plenty of sun and the sunsets are awesome. We also have two of our guest suites on this level for our pool loving guests.
From experience, we know that the beach experience is not the same as the pool experience, even though both may involve swimming. The beach is the place to go to watch other people, buy from beach vendors, soak up the culture, and swim in the waves of the South Atlantic Ocean. At the pool, you are close to all of the creature comforts, enjoy more privacy, and are away from sand. We hope that you do both on your vacation.
The Bistro and Patio
Think of our Bistro as an informal meeting place for fellow travelers. A comfortable bar that serves your favorite cocktails, snacks, and even light meals. Here you will find friendly conversation and an excellent meeting place for people traveling in groups or needing to make arrangements with your Hospitality Manager. When the weather permits, it is open to our covered patio that stretches in front of the house. Even though this is on the lowest level of the house, there is even a view from here! The patio is where our complimentary champagne breakfast is served every morning. There are lots of little tables so that you can dine by yourself or with your fellow guests, as you desire.
Spa and Gazebo
The Gazebo is a cool, shady area on the side of the house. This is one of the places that we offer our spa services, but it can also just be a nice place to sip a cocktail and visit with your fellow travelers. Our hotel is smoke free indoors, but in this area we have set aside a beautiful space where our smoking guests can enjoy the view and indulge their habit.
The Wine Salon
We have converted the main salon and dining room of the former villa into our Wine Bar. This beautiful space on our third floor has a sweeping view of the Bay and Rio. We wanted a quiet and comfortable place that our guests can gather to enjoy some of the famous South American wines. It is air conditioned, has a large TV, and lots of comfortable places to sit. To compliment your wine, tapas or other appetizers are available. The Wine Bar is open to all of our guests, whether ordering wine or not, and doubles as a quieter gathering place than the Bistro or Pool.
Our Technical Infrastructure
When it comes to WiFi, we are totally plugged-in. Ha. Seriously, we know that staying connected is more important today than ever. At Rio Holiday, we have spared no expense in our state-of-the-art WiFi system. We make certain that you can browse the internet, keep in touch with your friends or business associates, post on Facebook, or whatever. Bring your smart phones, tablets, and laptops and enjoy a high-speed internet connection in all areas of the hotel. In your room, we offer Sky satellite TV with programming in various languages and several movie channels. We know that people don't come to Rio to watch TV in their rooms, but it's nice to have this available for those lazy days when you just want to relax or when there is a sporting event that you simply must watch.
---
Read More About Us…